In the very unlikely event that you missed the flurry of exciting announcements from Microsoft today, one thing is very clear to me – they are ALL IN on Azure Virtual Desktop …and their target market is EVERYONE.
Whenever someone asks me why WV…I mean… Azure Virtual Desktop (AVD) is such a compelling technology, my response is always the same – this is the first time that VDI is available to the masses. Historically, VDI has been a luxury reserved for enterprises with sophisticated IT departments that required a variety of SMEs with skills dedicated to perfecting specific parts of the infrastructure or operations…including onboarding and migration planning.
To drive any meaningful adoption at scale, customers need to have a relatively painless experience when it comes to migrating existing legacy infrastructure to AVD. Having worked with our joint customers and partners for over 2 years, the one piece of feedback that has been constant is that "this is complicated". Streamlining the identity management process with Azure AD joined VMs goes a long way in doing that without maintaining multiple instances. These continued investments in various existing Microsoft platforms are a strong indication that they want to ensure that the migration planning and onboarding will improve in the coming year. Expanding the ability to manage Windows 10 Enterprise Multi-session is another great example of listening to their customers. And the work that the Azure Virtual Desktop product group has put into their "easy button" program shows that they are leveraging automation in all the right places to automate some of the more mundane portions of building out desktop pools with the proper virtual networking to get VMs and images spun up substantially faster.
At Rimo3, I have always embraced the concept of "automating the mundane". With our Jumpstart Program that is being developed in lockstep with the Azure Virtual Desktop team, we are excited to extend that simple onboarding experience to applications. After all, it is great that we can secure, manage, and instantiate desktop pools – but they are of little use unless you can get applications into them. With our unattended application testing and planning platform, we can provide customers and partners the data they need to ensure that they can deploy their applications into AVD with confidence. No more, "Which apps should I start with"?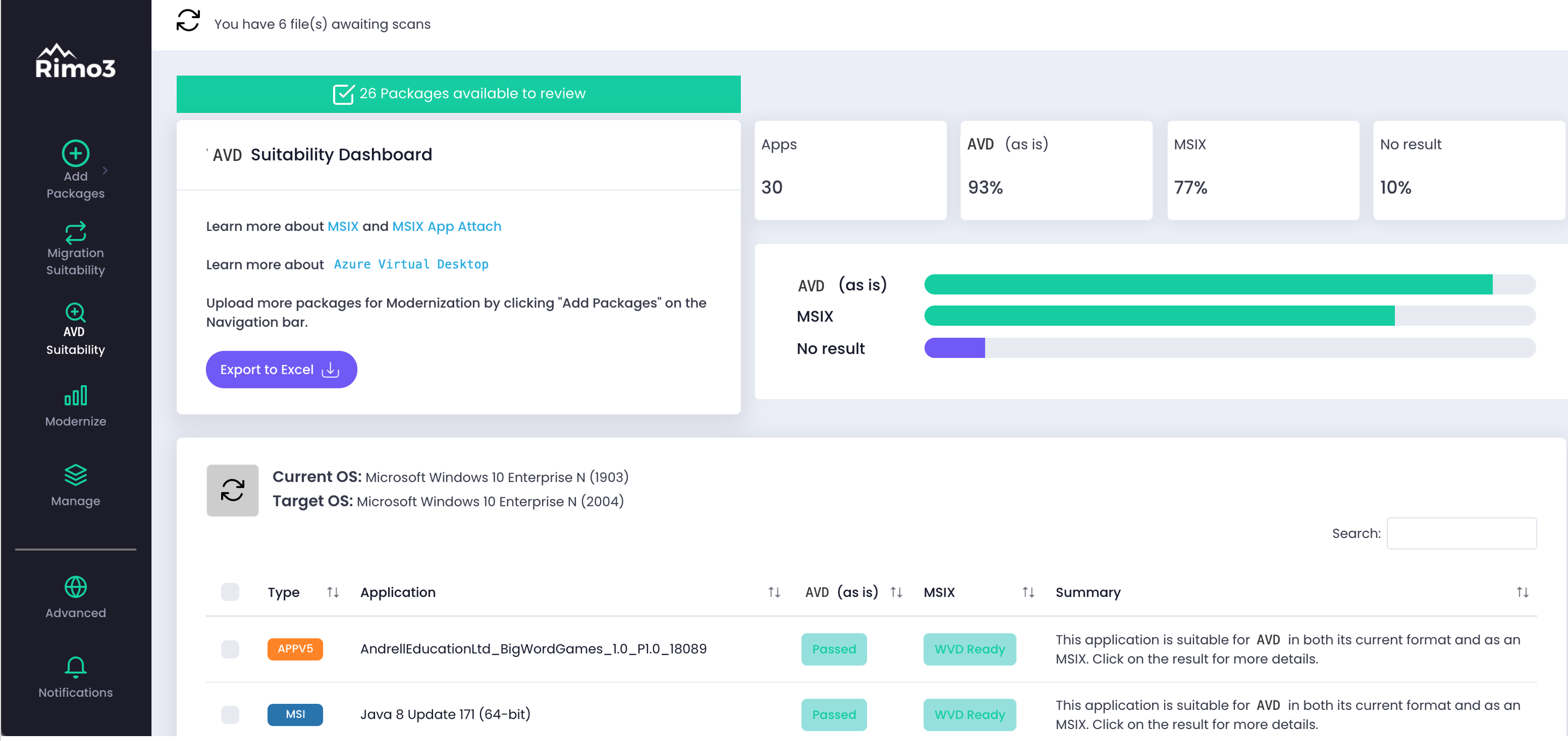 Today's announcements that highlight the platform investments around the bets that Microsoft is placing as it pertains to AVD are a clear indication that their intention is to make onboarding customers as simple as possible, regardless of size. At Rimo3, we are excited and ready to be a critical part of the onboarding and planning journey!
Are you ready? We can help you to get there.