Determine application deployment paths across physical, virtual or cloud workspaces with the new Rimo3 Application Analysis Jumpstart report. Available in the new Rimo3 Phoenix release, this is a vital report for understanding application suitability across different delivery models, including Microsoft Azure Virtual Desktop (AVD), MSIX suitability, or physical deployments.
By analyzing a small subset of applications, organizations can quickly see the immediate impact of new application deployments across Azure Virtual Desktop, MSIX, or a Windows OS. With this new capability, enterprises and managed service providers can feel confident deploying applications across workspaces and ensuring a great user experience dictated by data collected leveraging the Rimo3 intelligent automation engine.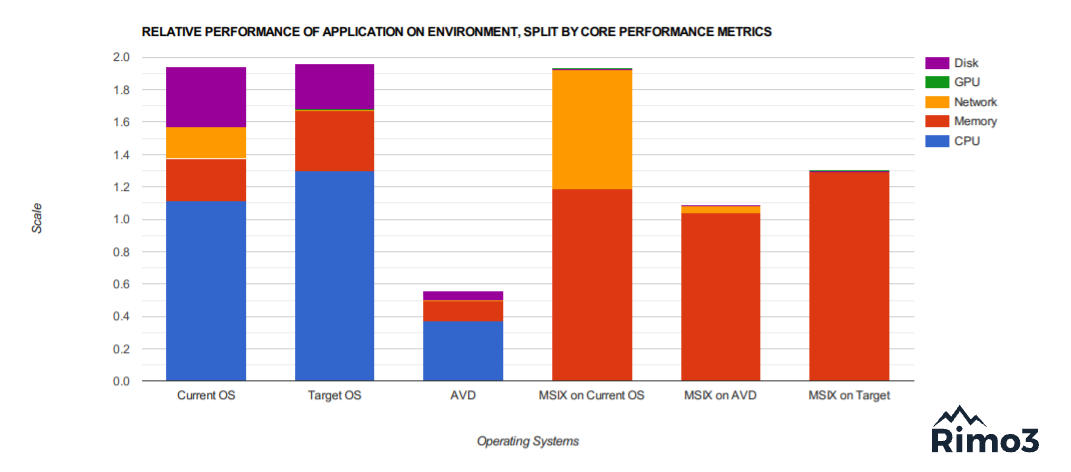 Introducing Application Jumpstart Analysis for Application Delivery Decisions
As the only application migration and modernization partner in the Microsoft Azure Migration & Modernization Program (AMMP), Rimo3 is a strategic choice for enterprises adopting new Azure Virtual Desktops. A long time Microsoft ISV Technology partner, Rimo3 is known for Windows-based application deployment strategies across physical, virtual, and cloud workspaces.
The Rimo3 Phoenix release builds on the Microsoft alignment by introducing the Application Jumpstart Analysis report, detailing the suitability of an application portfolio across specific delivery models. With Rimo3's automated testing and reporting, enterprises can ensure that the right application is deployed using the right platform to drive a great user experience.
The new Rimo3 Application Jumpstart Analysis evaluates
Azure Virtual Desktop suitability

Windows 10 multi-session suitability (coming soon)

MSIX suitability

Application compatibility

Application performance
With a clear view of application performance across multiple potential application delivery targets (we all know that there is never a single gold image or delivery model), enterprises can leverage the data collected by Rimo3 to plan their future deployments. Leveraging these behavioral insights, enterprise IT teams can then rely on the Rimo3 platform to investigate application error data in order to make informed decisions.

With the new Rimo3 Application Analysis Jumpstart analysis and report, enterprises can determine if applications are suitable for a new workspace, if there is remediation required before deployment, or if the application will not be successful in a specific deployment methodology.
Reasons for application remediation or application failure may include specific dependencies like font packages to environmental impacts like VPN requirements. With automated testing and analysis, Rimo3 saves enterprises from guesswork, extra manual labor, and failed deployments of critical applications.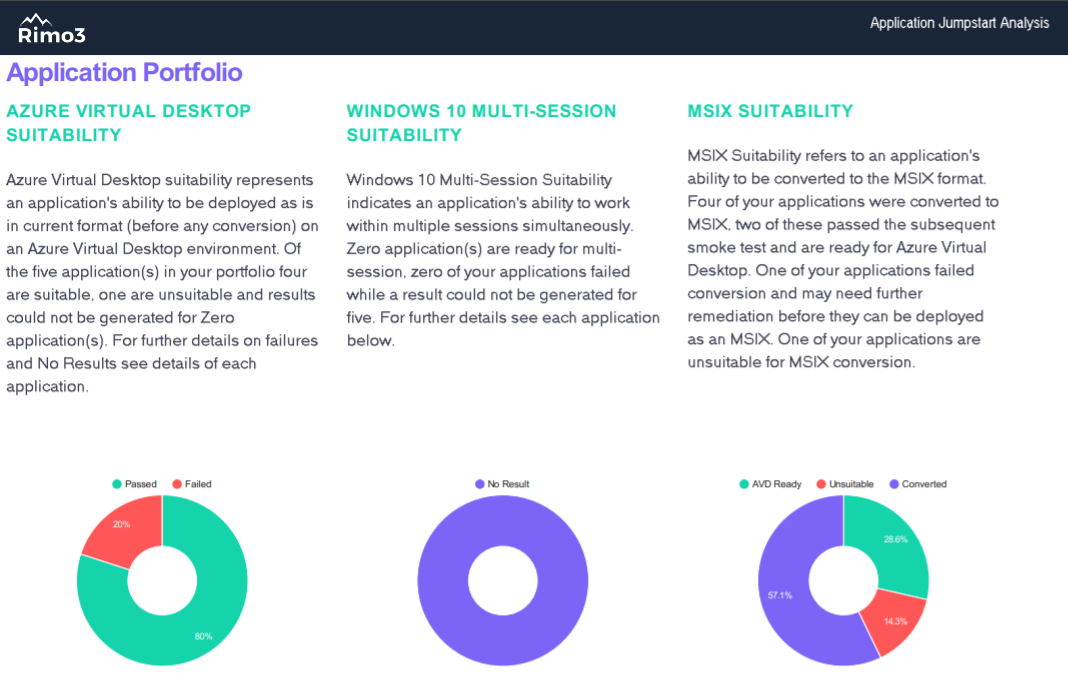 Enterprises can adopt an automated, data-driven process for application deployment strategies using the Rimo3 Application Jumpstart Analysis. Rimo3 or Rimo3 partners can provide a consultative workshop to discuss strategies and guide decision-making.
The new Rimo3 Phoenix release is available now via Rimo3 and the partner ecosystem of select solution providers and managed service providers.
Leverage Automation to Embrace Operating Environment Changes
Rimo3 provides insights to determine if an application can or should be deployed to the desired physical, virtual, or cloud workspace. Contextual analysis shows if your version of the application will work in a particular build of an operating environment. Considering the customizations of each environment, Rimo3 provides data for informed decisions about application success for major migrations like new workspace adoption or for daily constant changes like the impact of security updates and patches on the environment.
With a clear vision of how constant change affects application success, Rimo3 helps enterprises and managed service providers reduce risk, speed time to value, and embrace change.
Learn more about the Rimo3 Phoenix release and previous feature releases on the Rimo3 website.