September 27, 2021 - Rimo3
Today Rimo3 and NetApp are partnering to deliver fast, secure application behavior and experience insights that help managed service providers speed Windows 365 deployments.
Rimo3 enables the NetApp Spot PC platform to tackle one of the biggest challenges companies face when migrating applications into the cloud: will the applications perform in the new environment?
Many organizations go through a resource-intensive process that requires weeks or months to manually test each application. Rimo3 automates application testing and delivers insights into application behavior and experience in a matter of hours or days.
Applications are the core to any workspace adoption. The risk of application failure is high: end-user downtime, customer service issues, or financial risk. With Rimo3, IT teams have a clear view of application risks and a clear path to resolve issues before deployment.
By partnering with NetApp, Rimo3 supports businesses across the globe to accelerate the adoption of Windows 365 and deliver a best-in-class application experience. Today's announcement supports NetApp Spot PC, a new solution to deliver Windows 365 through managed service providers.
To learn more about NetApp Spot PC and Rimo3, join us for the Oct. 6 cloud desktop applications webinar.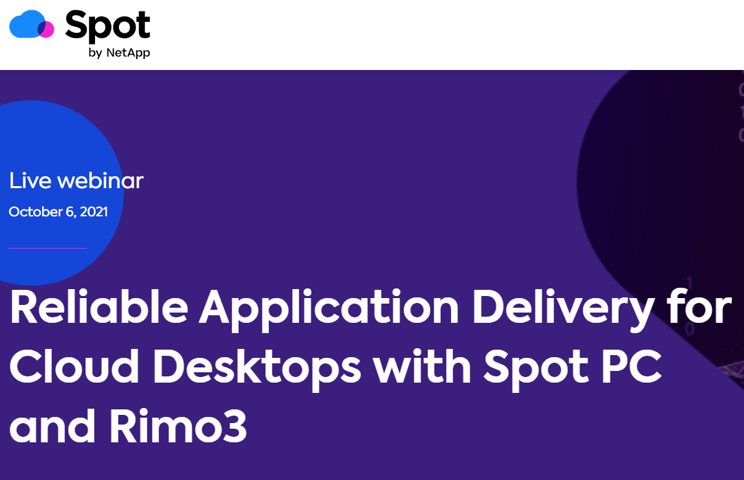 Accelerating Window 365 and Azure Virtual Desktop Migrations
As business needs change, new workspace adoption is a high priority. Organizations supporting Windows 365 or Azure Virtual Desktop can speed application preparation with Rimo3 and NetApp, both part of the Microsoft Azure Migration and Modernization Program (AMMP). AMMP partners provide organizations the ability to utilize Microsoft-selected expert independent software vendors (ISV) who will mitigate risk, avoid challenges, and support the migration to Azure Virtual Desktop (AVD).
With the alignment of Rimo3 and NetApp, customers can more quickly take advantage of Microsoft AVD and Windows 365. The combination helps simplify migrations. Rimo3 is excited to partner with NetApp, a market leader that is leading the market in hybrid cloud data services. data management, and storage for thousands of customers across the globe

Eddie Powell, VP of Global Alliances at Rimo3.
The Spot PC customer success team knows that application migration is an essential step in the virtual desktop onboarding process. We are using Rimo3 to test applications against a variety of potential outcomes, including suitability for Microsoft AVD, Windows 365, MSIX AppAttach, and Windows 10 multi-user. We can now execute these time-consuming and repetitive tasks, fully automated, in minutes.

Mike Walsh, Sr Director of Product for Spot PC at NetApp.
Learn more about Rimo3 and NetApp application management in the NetApp blog.
Rimo3: A Simple, Scalable Technology to Migrate, Modernize and Maintain Applications
Rimo3 continues to grow around the world, with many users and teams delivering their own application strategies, migrations, and outcomes through the Rimo3 platform. The Rimo3 vision is to enable organizations a simple and scalable way to migrate, modernize and maintain applications across all workspaces.
An important part of this journey is connecting Rimo3 into all supported environments to accelerate, automate and centralize application data. Helping to ensure alignment across enterprise migrations, Rimo3 partners with the workspace technology partners are most in-demand today. Learn more about accelerating workspace adoption with Rimo3 capabilities to migrate, modernize, and maintain applications.